Pay off your debt faster: balance transfer credit cards offer interest rates of 0% for up to 24 months. Here's how you can choose the right one.
A balance transfer card lets you move your existing credit card balance onto a new card with a lower rate. That lower rate runs for a fixed number of months (between 6 and 24), after which the interest reverts to a higher rate. Sometimes you'll pay a one-time balance transfer fee when you move to the new card and you'll generally pay an annual card fee. Despite that, 0% interest means you can save significantly.
This guide explains how balance transfers work and how they can dramatically lower your credit card interest payments; the different types of balance transfer cards available; how to compare balance transfer cards to pick the best one for you; common concerns about these cards; mistakes to avoid with balance transfers; and how to make sure your application is successful. You can calculate your potential savings with a wide range of cards in Australia using the table below.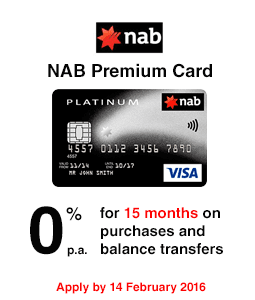 Low Balance Transfer Credit Card Offer
The NAB Premium Card offers a low interest rate combined with promotional offers of 0% p.a. for 15 months on purchases and balance transfers.
Enjoy 0% p.a. for 15 months on purchases and balances transferred to the NAB Premium Card, if you apply by 14 February 2016 and are approved (new applicants only)
Receive up to 44 interest-free days on purchases when you repay your balance in full by the due date each month.
An annual fee of $90 applies.
Purchase rate of 19.74% p.a. and cash advance rate of 21.74% p.a.
Benefit from a wide range of premium services such as Complimentary Insurances, Concierge Service, and VIP Card Cover program.
Rates last updated November 30th, 2015
Rates last updated November 30th, 2015
Rates last updated November 30th, 2015
Back to top
Which type of balance transfer card is right for me?
Back to top
What is a balance transfer?
Money expert Michelle Hutchison answers the question, 'What is a Balance Transfer?'
Click for transcript
Hi, I'm Michelle Hutchison, money expert at one of Australia's biggest financial comparison websites, finder.com.au. Today I'm going to talk about balance transfer credit cards.
So what is a balance transfer? It's essentially when you have a debt from one card, say it's at seventeen per cent, and you move that debt over to a new card offering a balance transfer rate of say, zero per cent.
Unfortunately these low rates won't last forever and they generally expire and revert to a much higher rate. One consideration is that you can't generally transfer that balance to a balance transfer credit card in the same institution. For example, say you have an ANZ credit card with a debt on it, you can't transfer that debt to another ANZ credit card but you may be able to transfer it to another bank or institution.
You can transfer a debt from credit card, store card, charge card, it's a really good way of consolidating all your debts into one line of credit.

Balance transfers can be a great way to save loads in interest and pay off your credit card debts, and while you can apply for as many as you like, keep in mind that applying for too many in a short space of time can impact your credit file.
Back to top
Common concerns about balance transfers explained

How do I apply for a balance transfer credit card?
When you apply for a balance transfer credit card, you'll include the details of your existing credit card debt on the application and ask to have it transferred to the new card. If you're successful, your debt is automatically moved over (that process typically takes a few days). You may have to pay a balance transfer fee and an annual fee for your new card.
What's a balance transfer fee?
Some balance transfer cards, particularly those with longer promotional periods, charge a balance transfer fee. This is a one-time fee that's a percentage of the debt you transfer to the new card. Typically this is between 1% and 2.5%. On a $20,000 debt, a 2.5% transfer fee would be $500.
Do I have to contact my old bank and new bank to make the switch?
Your new card provider can automatically handle transferring your balance. You just need to provide details of your existing card when you apply. If you want to close your old card, you'll need to do that yourself. If you fail to do so, you'll be stuck with annual fees on that card.
What's in it for my new provider?
Credit card providers make money when you pay interest, so why would they charge 0% when they could charge 20% or more?
Here's why:
You'll eventually revert to a higher rate. If you don't pay off your entire debt at the 0% rate, you'll end up back on the regular rate for your card. Once that happens, your new provider can potentially make hundreds or even thousands of dollars from you in interest charges.
Persuading you to switch is tough. Australians are reluctant to switch banks, and the cost of acquiring a new customer is hundreds of dollars. Offering a discounted interest rate is one of the cheapest ways for banks to woo potential customers. It's essentially a cheap form of marketing.
Can I do a balance transfer with my existing provider?
No, you can't perform a balance transfer while staying with the same institution. You also can't perform a balance transfer to other banks within the same group. For instance, you can't transfer from Westpac to St.George, or from Commonwealth Bank to Bankwest. Check our complete list of which providers won't allow transfers between each other.
Are there any hidden catches involved in a balance transfer?
The promotional rate for your balance transfer is locked in, so you won't have to pay high interest rates during the offer. However, you will still have to make the minimum payment each month.
Hundreds of thousands of Australians arrange balance transfers each year, and the process is safe. Our guide to avoiding common mistakes with balance transfers will help you use your new card effectively.
Can I get a balance transfer for a personal loan or store card?
While most balance transfer deals are for credit card debt, some providers will let you transfer debt from a personal loan or store card as well. We've rounded up the banks that offer personal loan balance transfers.
Back to top
How balance transfers work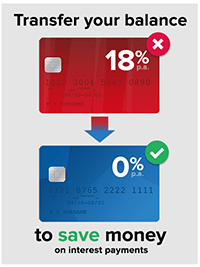 This is how the balance transfer process operates and how to make it work effectively for you:
Find a balance transfer offer that meets your needs. Use our comparison tables to easily compare a range of cards and see how much you could save.
Check how much you're eligible to transfer. The amount of your existing balance you're eligible to transfer can vary between 80% and 100%, depending on the offer. Make sure you haven't picked a new card that won't accept transfers from your current card. Contact your existing bank to get an accurate payout figure for the account. Your current balance from online banking isn't the number you need, since interest payments, annual fees and direct debits could change it before your new card is approved.
Submit your application. Check out our guidelines for successfully applying to maximise your chances of approval.
Wait for your application to be approved. This typically takes between 5-7 days. If you haven't heard after this time, contact the bank to find out if there's an issue.
Confirm transfer and close your old account Once your new card is set up, contact your old bank and make sure the old card is completely closed to avoid any further fee or interest payments. Use our tips for paying off your credit card tips faster.
Back to top
What you need to know to compare balance transfer offers
There are lots of balance transfer card deals available in Australia, so how can you pick the right one? These are the crucial features you must compare when looking for maximum savings. We include all these features when calculating your total interest saved:
Balance transfer interest rate: This is the interest rate that will be charged on the balance transferred to your new card. Most 2015 balance transfer offers set this at 0%. This is often referred to as the "promotional rate".
Promotional period: This is how long the promotional rate applies. Once the promotional period expires, you'll pay a much higher rate (the "revert rate"). The longer the promotional period, the more time you have to clear your debt.
Revert rate: After the promotional period ends, the remaining debt will be charged interest at the higher "revert rate". Typically, this ranges from 12% to 20% — the lower the better.
Balance transfer fee: This is a one-time fee, charged as a fixed percentage of the debt you transfer to your new card. Typically, this ranges from 1% to 2.5%. Balance transfer fees are often charged for balance transfer deals with longer promotional periods. Try and avoid them if possible.
Annual fee: Most balance transfer offers charge an annual fee in advance, typically around $100. Some providers waive this for the first year.
These card features are less important, but potentially worth factoring into your comparison:
Purchase rate: This interest applies to any new purchases made on the card. While this is usually 12% or more, some providers offer a promotional 0% rate on purchases as well. You can check out a full list of cards with that feature here.
Other benefits: Cards may offer additional benefits such as the ability to earn reward points or free insurance for travel booked on the card. These could be tie breakers when comparing two similar cards, but shouldn't form the basis for your decision.
Back to top
Why might my application be refused?
Financial institutions assess balance transfer applications carefully. These are some of the reasons why your application might not be successful. To maximise your chances, follow our step-by-step guide to successfully applying for a balance transfer.
Can't get a balance transfer?
If you don't qualify for a 0% balance transfer, look at
debt consolidation loans
to see if they can help you pay off your debt.
Back to top
Mistakes to avoid with balance transfers
Used intelligently, a balance transfer card will reduce your interest payments and get you out of credit card debt faster. Used the wrong way, your debts can actually become bigger. Ensure you don't get trapped in balance transfer debt by avoiding these mistakes.
MISTAKE: Forgetting you still have to make payments
Despite the promotional period with interest at 0%, you still have a debt, and you still have to pay at least 3% of the total each month. You can't simply balance transfer and then stop making payments.
MISTAKE: Not checking the revert rate
Once your balance transfer promotion finishes, you'll be paying the revert rate on any remaining balance. Choose a card with a revert rate that's lower than your current credit card rate if possible.
MISTAKE: Not making more than the minimum repayment
If you're only paying the minimum 3% each month, it will take you 34 months to fully repay your debt. No current balance transfer card offers 0% for more than 24 months, which means you'll be charged interest again before the card is paid off.
So how much should you pay each month? The table below shows what percentage you should pay off each month to fully clear your debt during the 0% balance transfer period. We've also shown how much this would be for a $10,000 debt. (We're assuming no new purchases are being made with the card.)
Duration
% to repay monthly
to clear debt
Repayment on
$10,000 debt
6 months
17%
$1,666.67
9 months
12%
$1,111.11
12 months
9%
$833.33
14 months
8%
$714.29
16 months
7%
$625.00
18 months
6%
$555.56
20 months
5%
$500.00
24 months
5%
$416.67
The key lesson? Budget as much as you can towards paying off your credit card debt while the promotional rate applies. If you haven't paid everything off, it's possible to apply for another balance transfer.
MISTAKE: Putting new purchases on your card
Adding new debt will slow down your ability to repay your card. Don't buy anything new on your credit card that you can't immediately pay off in full. Don't be tempted even if you have a 0% rate on new purchases.
MISTAKE: Not considering all applicable fees
While you won't be charged interest with a 0% balance transfer, you may have to pay annual fees and a balance transfer fee. Make sure you consider these when choosing a balance transfer deal. Don't dismiss cards purely on the basis of fees. Use our calculator, which compares the total costs for cards, to find the right deal for you.
MISTAKE: Keeping your old card open
It's tempting to hang on to your old card "for use in emergencies". Realistically, if you've run up debt on it before you're likely to do so again. Cancel the card and concentrate on paying off your balance. Remember to transfer any regular payments. Ask your old bank for the final payout figure so you don't have any leftover debt.
Back to top