Got existing credit card debt? Repay your debt with 0% interest for up to 24 months with balance transfer credit cards
Interest free balance transfer credit cards allow you to transfer your existing credit card debt to a new credit card and pay 0% interest for a specified promotional period.
Long Term 0% Balance Transfer Offer
A long term balance transfer offer with a reduced annual fee for the first year.
$64 p.a.

annual fee for the first year ($129 p.a. thereafter) annual fee

20.74%

p.a. on purchases

0% p.a.

for 18 months on balance transfers
Cash Advance Rate of 20.99% p.a.
Up to 44 days interest free
Minimum Income Requirement of $35,000 p.a.
0% Balance Transfer Credit Cards Comparison
Rates last updated July 22nd, 2016
---
How does an interest free balance transfer work?
A balance transfer allows you to transfer your existing credit card balance and repay it at a much lower rate (usually 0% interest) to repay your debt and save money.

How to find the best* interest free balance transfer credit card for your needs
Decide how long you need to repay your existing credit card debt. Balance transfer credit cards offer 0% from 6 months up to 18 months.
Know which banks you can transfer to. You can balance transfer to any banks/ credit cards, except credit cards from the same bank or credit provider.
Fees. Are there any balance transfer fees or annual fees? Balance transfer fees are typically 2% of the entire balance transfer amount. Along with an annual fee, these amounts could add a substantial portion to your existing credit card debt. Make sure you compare cards carefully using our reviews and read the terms and conditions before applying.
What else are you looking for in a credit card? Credit cards can provide a range of extra perks and benefits, including frequent flyer points per $1 spent, complimentary travel insurance and rewards programs.
How does a 0% balance transfer credit card work?
It is possible for you to save hundreds of dollars a year by transferring balances to a 0% balance transfer credit card. All you have to do is apply for a new credit card with a special introductory interest rate of 0% interest for balance transfers. After gaining approval, you transfer the balance to the new credit card. Often balance transfers can be requested in the online application, but sometimes this process is initiated after the credit card has been approved and activated. Once you have activated your credit card your new bank will initiate the balance transfer process by requesting the outstanding amount from your old bank. This process usually takes one or two weeks.
Case study: Julie's school supplies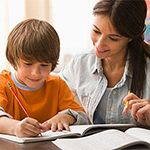 Julie is a stay-at-home mum with two kids in primary school. The kids have grown out of last year's shoes and clothes, so Julie needs to buy the kids new uniforms before school goes back. She puts this spend on her credit card which takes the balance up to $3500. Paying 20.99% p.a. on this card. She is currently paying a high amount of interest with the old card and decides to carry out a balance transfer. She chooses a card that offers 2.9% p.a. for 12 months on her balance. By transferring her balance she will save over $500 over the course of the first year, allowing her to put this money away for next year's school clothes!
What do I have to know to compare balance transfer credit cards?
You can get the ideal balance transfer rates by comparing our balance transfer credit cards and choosing the one that most suits your financial situation. As many credit cards offer 0% p.a. for a balance transfer, a good indication is the length of the balance transfer period and whether it's enough time for you to pay off the amount you transferred. As you're deciding on which is the perfect balance transfer credit card, look to the longest length of balance transfer for the lowest interest rate that suits your needs.
finder.com.au's balance transfer tip
A balance transfer will require applying for a new credit card, which means you may need to pay an annual fee on the card itself. If you put this into perspective, you're paying around $40 – $100 for this, but the potential savings from a balance transfer could exceed this. Some cards even have no annual fee and a 0% balance transfer.
Things to avoid with balance transfer credit cards
A 0% balance transfer credit card is a financial tool that can greatly benefit consumers. However, as with all financial tools, it is important to use it wisely.
Don't balance transfer too often. Usually these are a solution to come out of a credit card you're not happy with. Each application you make keeps on adding in your credit files for several years.
Pay at least the minimum repayment each statement. Consumers should be aware that failure to pay at least the minimum payment on time could result in an immediate end to the introductory period. Many credit cards, however, provide an automatic debit system or an online bill pay option. This can help consumers set up automatic payments that ensure that there are no late payments.
You forget the end date of the balance transfer offer. Usually the balance transfer date starts after the success of the application, then your credit card arrives a week after in the mail. It's important to mark these dates in your calendar.
Adding more purchases and debt to your credit card. This could potentially eliminate the benefits of completing a balance a transfer, because the ultimate goal is the pay off your credit card debt.
Shopping around for the best bargain is a way of life for many. Applying that rule to credit card applications can mean that you get to keep more of your hard earned cash. So it is wiser to compare and contrast the interest rates on various credit cards to get the best mileage of your hard-earned money.
How to use the Balance Transfer Calculator in 4 easy steps and learn how much you can save today
Step 1. Enter the total debt/outstanding amount you would like to transfer
Step 2. Provide the interest rate that you are paying on your existing debt (if you don't have your interest rate on you, the average is around 18-20%)
Step 3. See the 'Interest Saved' column to find out which credit cards will save you the most money. Click on the 'Interest Saved' title to sort the cards in ascending or descending order of money saved
Step 4. Compare the credit cards available in the table provided to find the card that suits your needs. If you still want to find out more about a particular credit card, click the 'More info' link for a full review on the features and benefits.
Frequently asked questions about 0% balance transfers
Exactly how much do I save by completing a balance transfer?
When should I utilise a balance transfer?
A balance transfer is just one of the three major ways to reduce the interest you pay on your credit card debt. It's suitable for relatively small debts – ideally ones that can be repaid within the balance transfer offer period. Balance transfers are superior in their access to interest-free periods, often up to 6-9 months. This gives people with debt a huge opportunity to direct all their repayments towards cutting down bad debt.
Are there any other options for debt?
Are balance transfers suited to everyone?
A balance transfer isn't suited to everyone, but if you have a substantial debt accumulated on your credit card then you might be able to save money with a balance transfer. By taking your existing debt at a higher interest rate and switching it to a 0% p.a. or 2.9% p.a. you could save hundreds of dollars in interest
Do I have to pay a balance transfer fee?
Balance transfer fees are generally no longer charged, but check with your institution to ensure this is correct for you. If you are charged a balance transfer fee, it's usually a percentage of the transfer amount.
What's the maximum I can balance transfer?
This is usually set at 90% of the credit limit you're approved for, but this number could be lower depending on the institution.
What happens to my old credit card when I've completed the balance transfer?
Your old credit card will remain active even when your balance has been transferred. You can either continue using it or request your bank to cancel the card.
Back to top