Australian's are becoming more conscious with the way they spend their money and are on the look out to find ways to reduce their debt and increase their savings.
Personal Finance Tips and Advice are essential for all of us. By organising your finances and structuring them to work for us we can all gain to save more money. Money we can choose to splurge for special occasions such as a holiday, a nice flat screen TV, or whatever else gets your heart ticking faster. Australia has a problem – this problem is the lack of finance education at school. But this problem isn't just limited to our country. All around the world the schooling systems continue to teach us about history we cannot change instead of teaching us how to handle money well.
If we would be taught to manage our finances from early childhood age, we could almost bet that the world population as it stands would have a lot less problems with debt.
Therefore we found it only suitable to come up with some helpful personal finance tips to help you manage your debt, or better yet, avoid it altogether.
Personal finance tips for students:
Students are often doing it tough financially. Besides spending a fortune on expensive university education, they often have to work to support themselves.
Even though HECS helps to pay a portion of our university education, many students are in debt for years after finishing their studies. So we need to manage our debt during student years to avoid having to pay it off for a long time after study has been finished.
Consider public schools for college education: If you have to go state or private try saving up some funds beforehand.
Invest into an early savings account for university education: It might even be a good idea to start a job while you are still at school. The sooner you pay of your student loan or HECS fees, the easier life will be in regards to financial pressures.
Consider help from the family: If your parents can afford to loan you money on the cheap, then take them up on the offer. They might be able to draw equity on their home, giving them and you a cheaper interest rate in the process. However, they need to understand the dangers of a missed loan payment with these types of loans.
Be consistent with your repayments: If you have no choice but to take out a student loan be consistent with your repayments. By paying more than you have to in the early stages of your loan you will save thousands of dollars over the span of your loan term.
Personal finance tips for personal reasons:
We often neglect ourselves financially but spend a fortune on our home, the kids, or even our pets. Since tax is a recurring event in our life many Australians struggle to come up with the necessary payments come July each year. To combat this you want to:
Save 10 per cent of your income on each payday: Deposit this money into a separate savings account and only touch it on rainy days. You'd be surprised how much money you can save and do without if you just ignore it.
Stop spending your last dollar: How many people spend more than they earn. Then come payday they can't wait for their pay packet because they have run dry. Be smarter than them.
Always pay your bills on time to avoid a bad credit rating and expensive interest rate charges and fines: It is a wise idea to pay your credit card off in full each month. If you struggle to do this, consider avoiding credit cards altogether.
Keep an emergency fund handy: Only touch it if absolutely necessary. Look at high interest savings accounts to deposit the money and raise it up whenever you can. It should cover at least three months of your living expenses.
Avoid debt where possible: Expenses such as cars and homes always attract debt. Unless you are born into a rich family it is impossible to pay for these things in cash and that's fine. But do you really need a personal loan to buy a TV?
Personal finance tips for life:
When you buy things such as household items, insurances, holidays, homes and more, there are good and bad ways to spend your money. Plus you can do a lot to save money in your life by following the tips below.
Avoid extended warranty: These come at an expense – to you.
Buy airline tickets early: The sooner you pay your tickets for that long awaited trip, the more money you might save.
Eat at home: You'd be surprised how much money you can save by forfeiting one restaurant meal a week to eat at home. If you work in an office, make your own lunches opposed to buying them in a cafe.
Avoid excessive mobile phone usage: Unless you are on a good plan, only use the mobile to phone in emergencies. They do cost a lot of money.
Be energy conscious at home: You can save money by switching to energy efficient light bulbs, turning off appliances at the main switch when not in use and even go solar. You can find more green tips on the Project Green Earth website.
Save petrol by walking or taking the bus instead.
Negotiate banking fees: You'd be surprised how much you can save by negotiating your terms. If they are reasonable enough chances are your bank will agree to them to keep you as a client.
Negotiate on insurance cover: Sometimes it pays off to keep all insurance needs in a package.
Pay off debt sooner than later: Especially if the debt is high-interest.
The most important personal finance tip…
You can receive all the advice you wish for, but unless you act on it, not much will happen. In fact, you probably end up further in debt than ever before. Keeping the finances organised is possible and with our finance tips you should be well armed to become debt-free sooner than later.
Feel free to share your own proven personal finance tips with us in the comments below
We have created numerous articles that will provide you with Personal Finance Tips and Advice to help you reach your money and life goals:
Preparing for the worst
1. Reduce Your Debts
If your bank balance has got lost in the seedy red light district, with little hope of returning any time soon, it's time to take control and pull it back to black. This, however, is always easier said than done. First of all, it depends on how much your balance is in the red. Are you the type to get extension after extension on your overdraft until you realise there's no way you can clear it? Or do you have lots of credit card debts and loans on above an overdraft? If so, you need to seriously rethink your spending habits. Start by contacting all your creditors and organising a reasonable repayment scheme that will see you paying back a your overdraft within a year and pay back a lot more than the minimum every month on your credit cards, while still having enough to survive. It will mean changing your lifestyle – cutting back on nights out and spending less on luxuries, but once you get into the new way of living, things will get easier as the strain of your debt decreases.
2. Get Credit Card Insurance
If you use your credit cards regularly it's advisable to get repayment protection insurance. It does cost around $0.50 per month for every $100 (will vary per company), so could work out quite expensive if you owe a lot, i.e., a balance of $5,000 would mean you pay $25 towards credit card insurance per month. So, if you never need it the banks will get richer, but if you get laid off or become ill you'll be reassured that at least your debts will be looked after.
3. Start Saving
Even if you think you can't afford it, if you're earning you should be able to save a little every month. It may seem like a lot at the time if you're a bit strapped for cash, but it will be worth it should fate deal you a bum hand; then you'll be quite delighted with yourself for being so organised. And if fate should leave you to get on with your life then you'll have enough put away after a few years to invest in something down the line, in turn making you more money.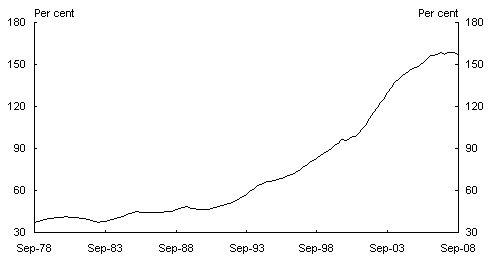 The Australian Debt to Income Ratio in Australia has more than tripled since the 90′s
4. Invest Wisely
If you have a healthy bank balance and spare cash to splash, then investing it seems like a no-brainer. The problem is: what to invest in? To decide this you would need to contact an independent financial adviser who could run through all the various possibilities. It's good to go with someone who's independent so they're not swaying you towards any particular product. If you have the nerve to go it alone, and can make sense of the stocks and share reviews in the financial broadsheets and websites, then go for it!
6. Protect Yourself
It's difficult to recommend insurance for every eventuality; after all, it's pretty impossible or implausible to think that everything can be covered. If life were only that predictable! But what you can do is be aware of what is available to you, then you can decide what is right for you and your circumstances. There are at least ten different types of insurance you can purchase to cover for various events, but if you need to pare it down, getting health insurance or life assurance with critical illness and disability cover are two of the more popular choices. And they provide some of the most comprehensive cover available.
7. Make a Will
No matter what age you are, or how healthy you are, having a will drawn up ensures your matters are looked after you're gone. Some people want their funerals planned perfectly, while others rarely give their deaths a second thought. If you have a family it's wise to think about what may happen after you're gone, how they will be cared for and looked after financially. It may seem morbid, especially if you're young, fit and healthy, but you just never know what the future has in store for you, so you may as well be prepared for the things you can
8. Get Organised
Know where all your important documentation is kept and sort it so that if someone else needs to find something, they can do so easily. This includes paperwork for your mortgage, insurance, banking, will and assets. Tell your partner or someone you trust if you're single where to find all your documentation should they need to, and ensure your lawyer knows about it, too, if you have one. You can never be too organised!
Common Financial Myths
Everyone needs a credit card – This is just completely untrue. Not everyone needs a credit card, in fact, almost no one really needs one. They can make shopping more convenient and can bring you rewards through various reward schemes, but you do not need one. In fact, if you do not have one, you greatly reduce your risk of getting into deep debt.
People who have lots of toys have lots of money – If you have not already realised, lots of people are living on more money then they actually make. They lean on their credit cards and have huge debts which eventually lead to financial ruin. One of the big money myths that lots of us fall for is that everyone else is making perfect choices. They are not. Having things does not make you wealthy. Having money in the bank for the things you want like retirement and college savings is what makes one wealthy.
Wealthy people are millionaires - Not true. Wealthy people can pay their bills each month without running out of cash. They have savings accounts that protect them in the event of emergencies and they are not in debt to credit card companies. Wealth is not about being able to afford an expensive vacation, but about being able to finance your own life the way that you want to live it.
To be wealthy you have to work constantly – Clearly, you have to work if you want to have money. However, work does not have to take over your life. No matter how much your paycheque is each week, you have to figure out how to spend it wisely so that you can save some and invest some for the future. Then you are actually putting your money to work instead of working for your money.
Being rich is not for everyone – The biggest problem with this idea is that it forces you to simply accept your lot in life. Everyone can be rich, according to their own definition of what that means. Life is all about perception, the reality that you create is the only one that matters.
Do not let financial myths stop you from living your life to the full. Instead, decide for yourself what a life of wealth looks like and set out to make it happen. You will probably be surprised to find out that the life you want is within your reach.